THE PROCESS
We've developed a streamlined process to help you create the ultimate outdoor living space. This page shows the roadmap to building a wonderful project with us. Scroll further to see some of our FAQs answered.
($ indicates paid services)
1. FREE ESTIMATOR TOOL
Start with our free estimator tool. This helps to understand the best use of your budget to create the most amazing space possible.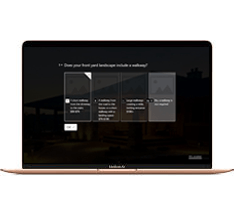 2. VIRTUAL CONSULTATION
We're available for FREE virtual consultations as an initial interview. We'll get to know each other and we will be able to answer any questions you may have regarding our design and estimating process and innovative construction techniques. Click Here to Schedule.
Before this consultation, we encourage you to compile any inspiration photos you may have and share them with our team to best get the sense of style you wish to achieve.
3. AT HOME CONSULTATION $
If we're a good fit we'll come to your home to take necessary measurements and assess site conditions. We can also bring along any samples you may be interested in. The cost of this meeting varies depending on your location and ranges between $65 – $95.
If available, we will also ask for a survey of your property prior to this meeting.
4. DESIGN $
We start by creating a 2D site plan. This is a conceptual plan to reflect your wishes and preferred styles. This plan will determine the location and size of new construction making the best functional use of available space. Conceptual designs are generally delivered within 1-2 weeks from the date of your at home consultation. Click Here to Learn More.
5. REVISIONS AND FINAL DESIGN $
We'll pick out materials together, complete any revisions and then – if you wish – render beautiful 3D models of your landscape. This shows every element in stunning dimensions and shadowing to fully visualize the overall look and feel of your new outdoor living space. Once we've reached this stage the space is fully developed – we know exactly what's being built and what it will look like! Fully rendered designs are generally delivered within 2-6 weeks from the date of your at-home consultation.
6. NO SURPRISES QUOTE $
Now that we have developed a comprehensive design and scope of work – pending your approval – we're able to provide a no-surprises, all-inclusive bid for the project. Quotes are usually submitted within 5 business days of design finalization.
7. PAYMENTS AND CONTRACTS $
All payment plans are structured with a 10% non-refundable deposit to get on our busy schedule. Builds under $75,000 then begin with a 50% commencement payment when we start the project, 30% upon completion, and 10% several days later after approval. Larger contracts are broken down with completion milestone payments to keep work flowing at a rate that is comfortable for you.
8. PERMITS $
We take care of all of the permits along the way. Utility locates, pool, deck, and electrical permits. We'll initiate and oversee the entire process.
9. PRE-CONSTRUCTION $
We'll have an in-person meeting between the design team, the build foreperson, and yourself. At this time we can address all elements of the project and address any concerns before we start building.
10. BUILD $
It's finally time to start construction! We'll take care of all the details as we develop and craft your unique landscape. We'll keep you updated on a need to know basis. Our skilled and efficient construction team will have your yard looking great in no time. Learn more about our build process
11. WARRANTY
Our industry-leading 5yr warranty gives you peace of mind your installation will last for years to come. Check out our warranty page to learn more.
12. ENJOY
All that's left to do is water the plants, watch your landscape grow, and love your space!