LANDSCAPE DESIGN SERVICES
LASTING RESULTS THAT WILL IMPROVE YOUR QUALITY OF LIFE
The return and long-term benefits you will get from a professional plan are priceless. A well thought out landscape design lends the opportunity to escape from your rigorous routine while bonding with nature.
WORK WITH A PROFESSIONAL THAT UNDERSTANDS YOUR WANTS AND NEEDS!
CREATING VALUE THROUGH DESIGN
By hiring a landscape designer, you not only add to the look of your house, but can also add to the value of your property. An eye-catching lawn and garden is an important factor when establishing your home's individuality and uniqueness in the neighborhood. A well thought out landscape design not only captures your personal style and aesthetic, but it also becomes an extension of your home. 
Hiring a professional landscaper can save you from losing time, money and opportunity due to a lack of familiarity with the materials and processes that go into an artistic and unified landscape. A landscape professional will have the understanding of how to accentuate and complement the unique features of your property and integrate them with new ideas. They can assist you in breathing life into the vision that you have for your property without the risk of choosing plants or features that will harm your land.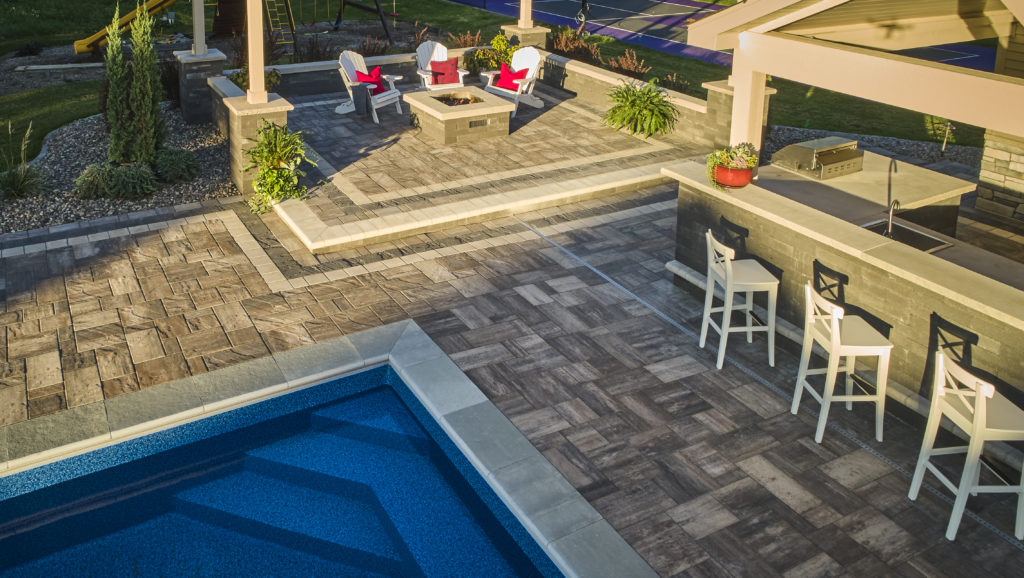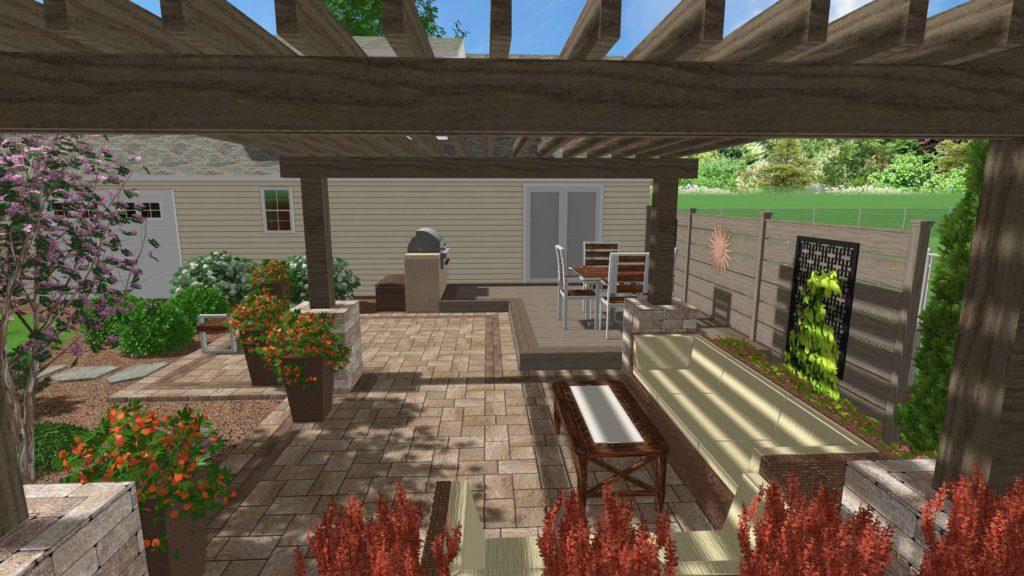 3D DESIGN RENDERINGS
Not everyone can look at a blueprint and really visualize what the design would look like when finished. As a result, we have found 3D landscape design can be very valuable. Above all, most clients tell us that they are blown away by the level of detail our robust design software has.By allowing you to see the different colors and textures, 3D landscape designs give you a better sense of size and scale. That being said, a 3D landscape design will show what is possible on your property and bring your yard to life, virtually. 
The 3D views not only add depth and dimension to the features of the landscape design, but they also show how the landscaping connects with your property. Furthermore, the 3D perspective allows you to visualize the way you'll use the outdoor space once it's complete. In 3D, your traditional hand-drawn landscape design will come to life. For instance, by adding realism to way the pergola feature casts shadows on the patio or how a fire dances in the moonlight. Imagine yourself enjoying your property in a whole new way. 
We offer 3D landscape designs as an upgrade to our traditional 2D hand-drawn plans. After we present you with a concept design, you get to decide if you would like us to render the plans in beautiful 3D. Our renderings have the visual impact that cannot be replicated in a 2D design, you get an authentic look into your property as you 'sit' in your backyard.  
Every detail of your 3D landscape design is carefully thought out and our experienced designers have taken everything into account making sure nothing has been overlooked. Veiwers will have the ability to see plant heights, lighting designs, and how shadows will be cast…3D design is unmatched in creating realism. 
LOOK AT OUR 3D DESIGNS BESIDE COMPLETED PROJECTS
INTEGRATED DESIGN + BUILD STRUCTURE
EXPERIENCE IN THE FIELD INFLUENCES DESIGN STRATEGY
There is a clear, undeniable advantage to working with a design-build contractor. In contrast, a designer that has no contractual relationship with the builder is not obligated to see the build process through to completion. They may not even have experience on an installation techniques. In contrast, the design team at Earthworks Landscaping in River Falls, WI have decades of experience building elaborate outdoor living spaces. Furthermore, our designers have an intimate knowledge of our building techniques and construction procedures. Therefore, we get to think both like a designer and a builder! That being said, the continuity allows us to be involved from concept through completion, subsequently adding inherent efficiency and effectiveness on a project.
In addition, our integrated approach to design + build creates reliability and accountability throughout the entire construction process. Moreover, the designers can be assured that their project goals will be accomplished by being involved in the process. Lastly, customer satisfaction is ALWAYS our number one goal, so we try to deliver beyond our clients' expectations on every project.
LANDSCAPE DESIGN PACKAGES
PACKAGE A –
2D PLANS
Phone Interview or Virtual Consultation

Site Visit and optional at-home Consultation

Concept Design

2D Plans

Material Suggestions

1-2 Week Delivery
$350+
PACKAGE B –
2D+3D DESIGN
Phone Interview or Virtual Consultation

Site Visit and optional at-home Consultation

Concept Design Review w/ optional revisions

2D Plans and Fully Rendered 3D Design – our recommended option to really visualize your project

Material Samples

Detailed Line-Item Proposal

3-4 Week Delivery
$750+
PACKAGE C –
ALL-INCLUSIVE
Full Site Analysis – including elevations

Site Visit and In-Person Consultation

Concept Design Review + Revisions

Collaboration between Design Team and Sub-Contractors

Full 3D Rendering & 2D Plans

Complete planting plans

Lighting plans

Material Samples

Detailed Line-Item Proposal

4-6 Week Delivery
$1500+
Why charge a fee for the landscape design?
Many landscape companies gift free design as their foot-in-the-door offer, and as a result they consider it a cost of doing business. Ask yourself, what value is a free landscape design from a company that doesn't value their own creativity? To clarify, don't let the "free" design they offer fool you into thinking that you are getting some kind of deal. Above all, trust that these companies will recoup that time spent in some way, subsequently costing you in the long run anyway.
We have bundled design services into an up-front pricing approach. Therefore, you can decide the level of service that you need. This strategy has proven to be of value to the clients we have served in Western Wisconsin and the Twin Cities metro. We have built trusting relationships because we are different. That is to say, we value creativity and care about your investment in outdoor living.
WHAT ARE YOU WAITING FOR?
NOW BOOKING FOR EARLY SUMMER 2023
We'd love to help you with your next landscaping project, therefore you should contact us today about setting up a consultation. In short, our construction schedule fills up fast, so don't wait!