LANDSCAPING DESIGN PROCESS
FROM THE INITIAL MEETING TO FINAL WALK-THROUGH, WE ARE WITH YOU EVERY STEP ON THE LANDSCAPING DESIGN JOURNEY.
We have built a step-by-step approach to creating the outdoor living space you've been dreaming about. Let us walk with you through the landscaping design process from start to finish.
($ indicates paid services)
1. FREE ESTIMATOR TOOL
Start with our free estimator tool.
Handpick the elements that are unique to your specific project with our FREE project builder tool. Determine your tailor-made landscaping budget in minutes!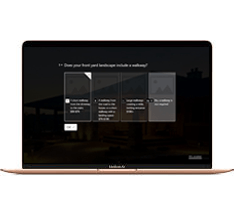 2. VIRTUAL CONSULTATION
We offer a FREE virtual 15-minute consultation as a way to get to know each other. This is your opportunity to learn more about working with Earthworks and for our landscaping design team to get to know more about you and your project. Click Here to Schedule.
Before this consultation, we ask that you come prepared to share any inspiration ideas or photos so that we can get a better sense of your personal style. Think about any site-specific concerns you have or questions we might be able to answer.
3. AT-HOME CONSULTATION $
 We call it a "walk and talk" meeting. Once we have decided to work together, we will walk with you on-site to get better acquainted with your space and talk about design ideas specific to your project. Our experienced designers will share their knowledge, offer suggestions, and show you material samples. The cost of this meeting varies depending on your location and ranges between $65 – $95.
If you have them, site surveys and house plans can be helpful to have on hand during this meeting.
4. DESIGN $
After we agree on a price for the landscaping design work, we do our site analysis by measuring, taking pictures, and recording elevations. With all of the information gathered in our previous meetings, our talented artists get to work. A hand-drawn 2D concept design is created that combines your personal aesthetic and the best functional use of your space. We can typically deliver a concept to you in 1-2 weeks.
Click Here to Learn More.
Our minimum design fees are $350 and increase depending on the scope of work. This is a non-refundable charge.
5. REVISIONS & FINAL LANDSCAPING DESIGN $
Now we make any necessary revisions to the concept landscaping design, finalize material choices, and choose plant material. Often, we like to meet here at our design studio to show you our nursery, demo gardens, and outdoor living areas.
Our extensive display gardens and demonstration areas are a great place to see established landscaping installations. See and feel the plants we are suggesting in your design here at our retail plant nursery in River Falls, WI.
6. 3D LANDSCAPING DESIGN $
As an optional upgrade to your 2D hand-drawn design, we can render your concept in 3D. Our robust design software will bring your project to life so that you can visualize every element in stunning detail. Get a sense of what it will really feel like looking at your beautiful new outdoor living space. Fully-rendered 3D designs are typically delivered within 2-4 weeks from the date of your at-home consultation.
3D design upgrades start as low as $250 depending on scope and complexity.
7. NO SURPRISES PROPOSAL $
When everyone is happy with the design and we have determined the scope of work, it is time to put together our proposal. You are presented with a comprehensive, all-inclusive quote for the project. As part of the proposal, you will see each element as a line-item and not just a lump-sum bid.  Proposals are sent out within 5 business days of design finalization.
If a phased approach is necessary, we can help you determine what needs to happen in what order.
8. CONTRACT, PAYMENTS, SCHEDULING $
When you are ready to move forward, we'll email you a digital copy of our contract to sign which will lay out the payment schedule for your project. As a general rule-of-thumb, we require a 10%-down payment to schedule the job and a 50% down payment when we start. We can make arrangements for payments on larger projects that you are comfortable with. 
You'll be given a date range in which we hope to start your project. Please realize that Mother Nature sometimes has other plans and we do our best to stick to dates. If you are flexible, please let us know. 
9. PRE-CONSTRUCTION $
We will have an on-site meeting with the landscaping design team, installation team leaders, and you. During this in-person meeting, we can address site-specific concerns, look at equipment access, and determine material staging areas. Any questions or concerns you may have can be addressed before we start.
Typically this meeting takes place the day of, when the crews arrive prepared to start working. At this point, any major changes should have been priorly discussed with your designer. 
10. BUILD $
Finally, it is time to break ground and get working! Don't worry, our skilled craftsmen will bring your dream project to life. We always say "it's going to get worse before it gets better" so don't panic! Everything is taken care of and we'll keep you updated on a need-to-know basis. Our highly-skilled team will have your yard looking great in no time.
Learn more about our build process HERE.

11. WARRANTY
You will have peace of mind knowing that we back our work with an industry-leading 5-year warranty. Most of the materials we use will also carry a manufacturers warranty. For more information, check out our warranty page.
12. SIT BACK AND ENJOY YOUR NEW LANDSCAPING DESIGN
Now it's time we hand over the keys to your new outdoor living space. All you need to do now is enjoy knowing that you'll be the envy of the neighborhood!
We will talk you through caring for your newly installed plants, grass, and hardscapes.